DOCUMENTING YOUR LOVE STORY
I CONSIDER MYSELF A STORYTELLER MORE THAN ANYTHING BECAUSE I'M ALL FOR CAPTURING THE REAL, IN-BETWEEN MOMENTS. I'D LIKE TO SHARE WITH YOU WHAT I VALUE MOST IN MY WORK AND SEE IF THAT RESINATES WITH YOU. IT'S REALLY IMPORTANT TO ME THAT WE CONNECT SO THAT YOU HAVE THE BEST EXPERIENCE. 
BUT BEFORE I GET TOO FAR AHEAD, I'LL SHARE A LITTLE ABOUT MYSELF, ON A PERSONAL LEVEL (THINGS ARE ALREADY GETTING SERIOUS HERE). I'M A PRETTY RELAXED PERSON AND I TRY TO MAKE THE BEST OUT OF WHAT I CAN'T CONTROL (P.S. WEDDING DAYS DON'T ALWAYS GO AS PLANNED, AND THAT'S OKAY). I'M ALL FOR NATURAL, EARTHY TONES--WHICH FOLLOWS INTO MY EDITING STYLE AS WELL. WHEN I'M NOT SHOOTING WEDDINGS ON SUMMER WEEKENDS, I'M MOST LIKELY AT A CONCERT OR MUSIC FESTIVAL, NOTHING BEATS LIVE MUSIC, SO IF YOU HAVE A LIVE BAND AT YOUR WEDDING THAN YOU ALREADY HAVE MY HEART. I'M NOT A HUGE TV WATCHER, BUT IF I DO BINGE WATCH A SHOW THEN IT'S DEFINITELY ANYTHING ON HGTV. I'M INTO ANYTHING HOME IMPROVEMENT OR DESIGN AND I REALLY ENJOY REFURBISHING FURNITURE, TOO. 
SO, I THINK THAT'S A GOOD START AND WE'RE READY TO DIG IN!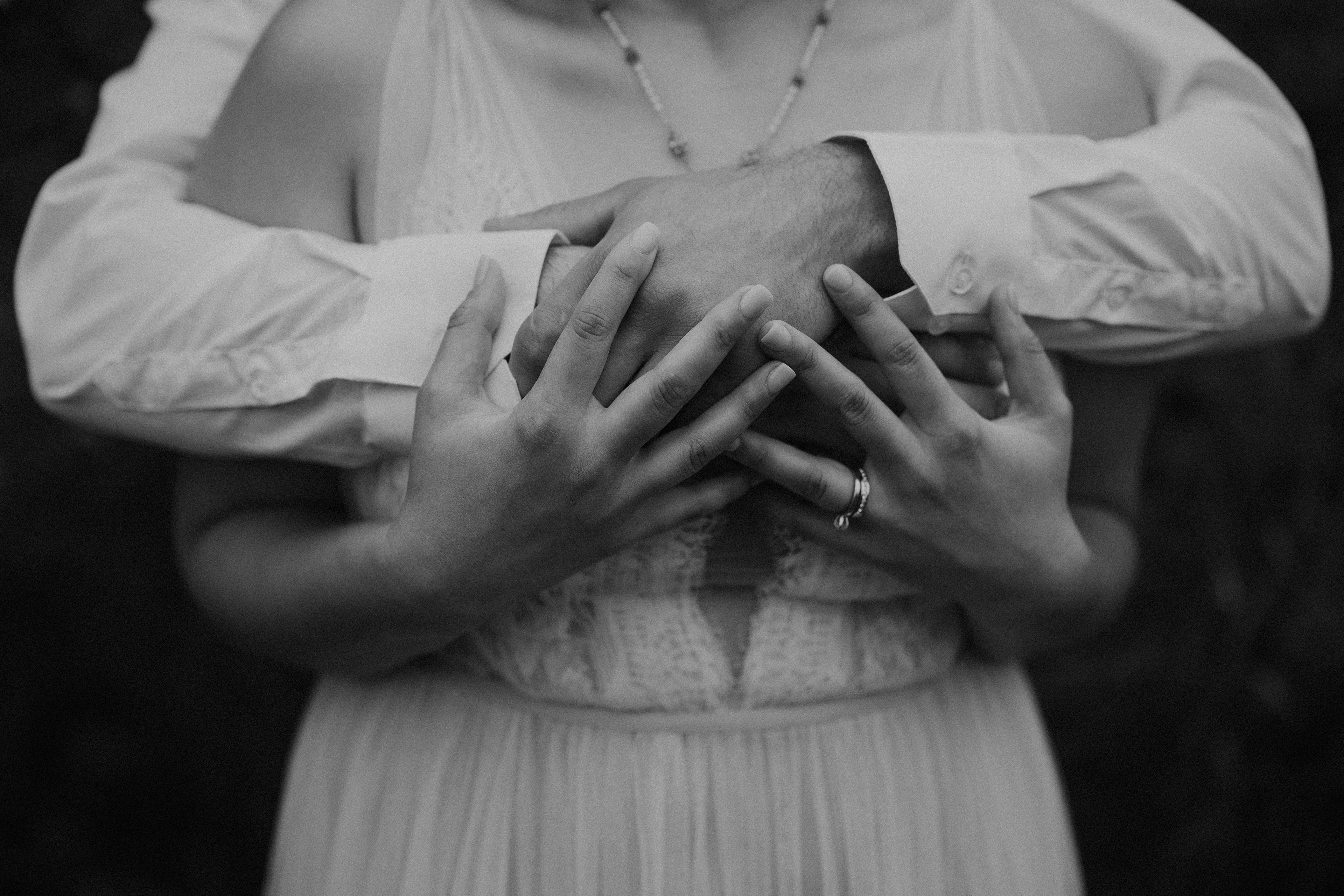 YOUR STORY IS ONE OF A KIND.
IT'S ALL ABOUT MOVEMENT AND WHAT FEELS RIGHT. I WILL GUIDE YOU SO THAT YOU'RE COMFORTABLE, BUT THERE'S NO PRESSURE. I OFTEN SAY, THE "PERFECTLY UN-PERFECT," BECAUSE TO ME THE LITTLE DETAILS DON'T MATTER COMPARED TO THE FEELING AND EXPRESSION SHOWN IN THAT MOMENT. I LIKE TO KEEP THINGS CLOSE AND FOR YOU TO JUST EMBRACE EACH OTHER WHILE TAKING IN THE DAY.
I HAVE A SOFT SPOT FOR SMALL INTIMATE WEDDINGS AND ELOPEMENTS BECAUSE THEY REALLY SLOW THINGS DOWN, WHERE I FIND MYSELF BEING ABLE TO DOCUMENT A LOT MORE EMOTIONAL MOMENTS IN A RELAXED AND STRESS-FREE ENVIRONMENT. I BELIEVE IN STAYING TRUE TO YOU, SO KEEP IT SIMPLE AND SKIP THE TRADITIONS IF THEY DON'T WORK FOR YOU. THE ONLY THING THAT TRULY MATTERS

IS

LOVE. 
​​​​​​​
MY GOAL IS THAT YOU LOOK BACK AT YOUR PHOTOS OR VIDEO AND REMEMBER IT BEING A REALLY FUN AND POSITIVE EXPERIENCE. YOU SPEND THE ENTIRE DAY WITH YOUR PHOTOGRAPHER/VIDEOGRAPHER WHICH IS WHY IT'S IMPORTANT THAT WE MAKE A GOOD FIT! I WANT WHAT'S BEST FOR YOU, EVEN IF THAT MEANS GOING WITH SOMEONE ELSE. I'VE LEARNED HOW IMPORTANT THIS IS AFTER YEARS OF EXPERIENCE IN THE WEDDING INDUSTRY. I WANT YOU TO BOOK WITH ME BECAUSE YOU SHARE THE SAME VALUES AND RELATE TO MY STYLE. 
THAT'S WHEN I KNOW YOU COMPLETELY TRUST ME. 
AND THAT'S HOW THE MAGIC HAPPENS.
 I'M MOST PASSIONATE ABOUT 
LOVE AND SELF-LOVE.
COUPLES
; ENGAGED, MARRIED OR JUST BECAUSE IT'S A TUESDAY AND IT FEELS RIGHT, I WANT TO CAPTURE THE LOVE BETWEEN YOU TWO. LETS GO ON AN ADVENTURE! OR, STAY AT HOME, IN-HOME SESSIONS ARE FUN TOO!
MATERNITY
; CREATING LIFE IS WILD. YOU DID THAT!! LETS HOLD ONTO THESE MEMORIES OF HOW PROUD AND EXCITED YOU ARE FOR YOUR GROWING FAMILY, HOW IN LOVE YOU ARE WITH SOMEONE YOU HAVEN'T EVEN MET YET, THAT OVERWHELMING LOVE THAT IS INCOMPARABLE. 
BOUDOIR
; YOU DESERVE IT. SELF-LOVE IS SO IMPORTANT. I WANT TO EMPOWER OTHERS AND REMIND THEM HOW BEAUTIFUL THEY TRULY ARE. YOU ARE PERFECT JUST THE WAY YOU ARE. FEEL CONFIDENT IN THAT.
"Brad & I cannot thank you enough for being part of our wedding day! We are thrilled with our videos & love having them to remember our special day! You did such a great job & we appreciate all of your hard work to capture every detail the day of." - Brad + Bailey
"Cassi did such an amazing job!! We had a small wedding of 30 people, and she made sure we got photos with everyone. She got lots of great photos with all of the family as well. For every important moment, she was right on it taking photos, and she was constantly taking candid photos throughout the evening. If we have another event needing a professional photographer, we would absolutely choose her again!" - Chad + Keith
"CASSI THESE ARE AMAZING! I truly cannot thank you enough. These exceeded all of my expectations. You captured the day so beautifully and I cannot wait to brag on you! Seriously words do not even do it justice. Thank you thank you thank you! You truly have such a gift. We LOVE them."- Alyssa + Thomas
"amazing eye for details and amazing to work with!! Very happy you were part of our day!!" - KENDALL + JEREMIAH
"Cassi did an absolutely amazing job. She took the time to get to know us by incorporating our music tastes and personalities to capture our day perfectly. She does a great job at highlighting the big and little moments without us being aware we are being filmed. We couldn't be happier with Bending the Branches Storytelling and would pick her again and again!" - courteney + jason
"If you want someone to capture the most important part of your life... engagement, wedding, anniversary etc. hire Cassi. What I love about her is she is all about quality vs quantity. I guess what Im trying to say is, she's not just trying to get as many clients as she could. She wants to make sure she gets to know them more so she can capture not only her clients posing for photos but also their stories." - claire + victor
"Cassi is amazing!! We couldn't be more thankful for her dedication to making our wedding photos beautiful. My husband and I aren't big photo people and she made us so comfortable. She went above and beyond to get to know us and meet our needs. She took so many great photos, which gave us a ton of options. She really captured our wedding day. We were very happy with Bending the Branches Storytelling! We highly recommend it for any engaged couple looking for a sweet, dedicated, and talented wedding photographer!!" - victoria + will